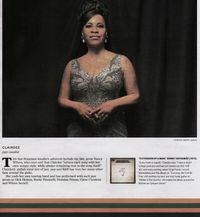 What eight music makers turn to when they crave comfort.
It's no secret that music can deliver a powerful attitude adjustment, elevating your mood, soothing frayed nerves or simply injecting some joy into a bad day. 
No one knows that better than the musicians who weave those harmonies, whether it's the blues, jazz, gospel or rock. 
So we asked eight Bay Area musicians to tell us about their go-to, feel-good albums, the ones they turn to when they need to feel better. As you might expect, the responses varied widely, from an early offering from the most famous rock band of all time to a late-career classic from a blues legend. 
You'll likely find some favorites among their choices, as well as some new melodic inspiration for the next time you're feeling blue.
Clairdee, jazz vocalist
This San Francisco vocalist's admirers include the late, great Nancy Wilson, who once said that Clairdee "infuses each song with her own unique style, while always remaining true to the song itself." Clairdee's stylish vocal mix of jazz, pop and R&B has won her many other fans around the globe.
She leads her own touring band and has performed with such jazz greats as Dick Hyman, Bucky Pizzarelli, Houston Person, Cyrus Chestnut and Wilson herself.

"EXTENSION OF A MAN," DONNY HATHAWAY (1973) "Every track is superb," Clairdee says. "I was a recent college graduate and had just started my first 'real job,' and every evening when I'd get home, I would immediately put this album on. 'Someday Well All Be Fe' still soothes my soul, and that funky guitar on 'Valdez in the Country' still makes me dance around the kitchen as I prepare dinner."
— By Jim Harrington | Bay Area News Group 
PUBLISHED: June 22, 2020